More Website Templates @ TemplateMonster.com - November 14, 2011!
About Us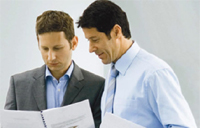 SAG Consultants was granted a Direct Intermediary License by the Insurance Regulatory and Development Authority (IRDA) in year 1990, for undertaking insurance business in Life and Non-Life businesses. SAG has empanelled itself with various public and private insurance companies to offer customized solutions to customers. As a Total Insurance Risk Solutions provider, SAG plays an integral role in the Risk Management portfolio of customers.
SAG Consultants is committed to providing value to its customers by understanding their insurance needs and risk profile, and providing innovative, cost effective, customized solutions to ensure total customer satisfaction. Our role, in short, encompasses various activities right from risk profiling to claims administration for customers. Our aim is to play a predominant role in the insurance industry in India with a focus on giving more value to customers, innovative solutions, superior services, professional team, and corporate social responsibility.
The company provides insurance for Corporate and Retail customers and offers a range of products for the Non-Life and Life segments. In addition, SAG also offers value-added services like Risk Management / Audit which include risk inspection and gap analysis, and portfolio management which includes claims handling.
The Life Insurance retail products cover Children's Plans, Endowment, Money Back, Retirement Plans, Term, Unit Linked Plans and Whole-Life Plans. The Group Policies include Credit Cover, Employees Term Cover, Gratuity and Superannuation. Under the Non-life Insurance category, Personal, Industrial, Commercial, Social and Liability products are available.
What We Provide
A
Non-Life Insurance ( General)
Personal Products, Industrial, Commercial, Liability, Group.
B
Life Insurance
Personal Products,Group Products
C
Financial Services
Mutual Funds,Home Finance,Tax Planning,Personal Finance
D
Logistic Solutions
Primary Transport,Secondary Transport,Warehousing